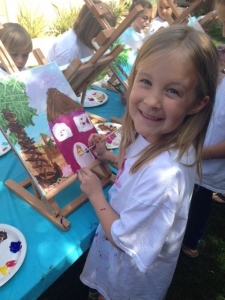 Kids Painting Parties
— Birthday parties
— Back to school parties
— Sports Team Parties (soccer, volleyball, etc.)
— Holiday Theme Parties (halloween, valentines, etc.)
— Home school art parties/lessons
— Church/Teen Groups
— Charity/Auction Parties for schools or organizations
— Girl Scout & Boy Scout Troops
— Graduation Parties
— Going off to college Parties
— Any reason for a party!
Art with Jenny's kids painting parties are such a fun and unique way to celebrate!  We do age-appropriate painting parties for both boys and girls, ages 6 years and up. We work hard to make sure all the guests have a great time and we love to incorporate their "favorites" into the paintings.  Kids who are celebrating birthdays also receive a special birthday surprise from the Art With Jenny studio!
How It Works
You dream up the theme and we will dream up the painting we will make together.  We walk the painters through the painting very easily, step-by-step, so it's easy for everyone to follow and we are all going at the same pace. Everyone will paint the same thing, but each painter can choose his/her colors and add their own elements!  Each painter will leave the party with their gorgeous 11 x 14 masterpiece on canvas!
On The Party Day
We will come to your house or event location approximately 30-40 minutes early to set up. Once all your friends arrive, we will begin the painting lesson right away.
You Provide:
— Table space for each painter. (Preferably all facing in the teachers direction. Long tables work the best!)
— A small, separate table for the art teacher to set up and teach from.
— Optional: Tablecloths to protect the table from spills, chairs for the painters to sit.
We provide:
— Table top easels, canvases and all paint supplies for painters.
— Painting entertainment for the kids that lasts approximately 1 – 1.5 hours, depending on children's age and what we are painting.
— Aprons for all the kids to wear
— A special birthday gift if the party is for a birthday.
Cost
Our fabulous paint parties start at $350.00 for up to 10 painters.
— $350.00 for up to 10 painters
— $30.00 for each additional painter after 10 people
— *Please note that my pricing includes all of my time plus my costs such as canvases, high quality paints, etc.  I accept CASH or CHECKS ONLY for birthday parties.  Sorry, no credit cards taken.
Travel Fees
Free (No Travel Fee) — Sunnyvale, Cupertino, Mountain View, Los Altos, Los Altos Hills and Palo Alto
$45.00 extra Travel Fee — Saratoga, Los Gatos, Palo Alto Hills, Menlo Park, Atherton, North San Jose
$100.00 extra Travel Fee — Foster City, San Mateo, Burlingame, Hillsborough, San San Francisco, Central & South San Jose
How To Sign Up
Please email us at jenny@artwithjenny.com with the following information to request a painting party date!
— Your first and last name
— Type of party you are having (birthday, sports party, school party, etc.)
— If it's a birthday party, the birthday child's name and age they are turning
— Your email address and best phone # to reach you
— Address of the party
— Suggested party date and time
— Second choice date and time
— How many people you are inviting to participate in painting
— Suggested painting theme
A $100 deposit is required to guarantee a reservation & party date. Remaining balance due on party date.  Cancellation of parties or special events must be made 48 hours prior to the day of the event. Parties with late cancellations will not be refunded $100 deposit.
Thank you. We can't wait to celebrate with you!